Works of Art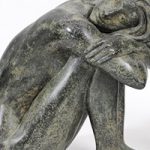 Works of Art cover a broad range of disciplines, from bronzes through to carved ivory.
Every month we sell many Works of Art lots, and as in many auctions, there are always a few surprises, such as a Chinese carved ivory glove box. Taken to a charity shop as a pile of bits, we put it back together and sold it for £2,200.
When we are out and about visiting clients, we also have to wander around the gardens, which is where this bronze figure of a girl was found. Brought in from the cold, there was hot bidding and she sold for £900.
However, we often come across lots, whilst they are not of high value, they generate high levels of pre-auction interest. One such lot, was a pair of mid Victorian rosewood work boxes. With similar individual boxes being worth less than £100 each, it was rare find a pair. Probably originally bought for a mother and daughter, or maybe sisters, they romped away selling for £450, with many under bidders walking away disappointed but with the vendor left being very pleased with the result.
All of our auctions use live internet bidding platforms to ensure that every lot, whether it is worth £20 or £500,000, reaches the widest possible market and sells for the best price possible. In the run up to an auction we can receive over 1,000 emails requesting further information to lots in the sale. Attached to these email replies, we regularly send out over 5,000 digital images, such is the interest generated in our auctions.
For further information regarding selling works of art at one of our auctions, please contact Richard Bromell, Director
Other Charterhouse Specialist Departments Available