Stamps
We see 1000's of stamps every month. Clients regularly bring in or post single us albums, boxes and complete collections of stamps for valuation. We see modern presentation packs, booklets of stamps, mint, used and postal history from the 19th century through to the 21st century.
Often the collections are inherited and of little interest to the vendors. Alternatively, they are albums and collections amassed by the owners, usually when they were younger. The good news is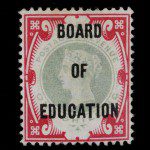 that i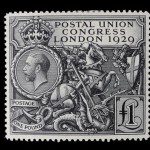 n today's market, stamps and related items are in fashion and they perform well in our regular collector's auctions with high prices achieved selling to collectors and dealers.
If you have a collection of stamps contact Richard Bromell at our salerooms 01935 812277 or send Richard a selection of images to info@charterhouse-auction.com and he will get back to you with a valuation.
All of our auctions use live internet bidding platforms to ensure that every lot, whether it is worth £20 or £500,000, reaches the widest possible market and sells for the best price possible. In the run up to an auction we receive 100's of emails requesting further information for lots in the sale. Attached to these email replies, we regularly send well over 1,000 digital images, such is the huge interest generated in our auctions.
A rare Queen Victoria One Shilling stamp, with Board of Education overprint, sold for £800
A 1929 Postal Union Congress £1 stamp, part of an album of GB stamps sold for £1,500
Two Bermuda stamps, from an album of Commonwealth stamps, sold for £1,100
Other Charterhouse Specialist Departments Available