Medals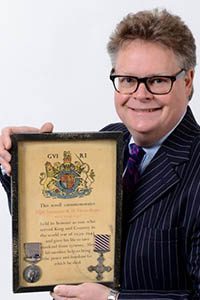 Medals have always been a big part of Charterhouse auctions. Richard Bromell, Director, was taken (or dragged) around medal & militaria fairs and auctions as a child by his father who had a huge passion for collecting.
Moving forward nearly 50 years, the interest and enthusiasm Richards's father had has rubbed off onto Richard and he now heads up the medal, militaria, coins and stamp division at Charterhouse. Medals sold by Charterhouse are researched to make certain they bring their full potential.
Although medals can look the same, values can differ hugely depending upon rank, regiment, campaign and citation. A good example of this could be a pair of WWI medals. A pair awarded to a Private who served with The Royal Engineers, could sell for under £100, but a pair which look identical, but awarded to an Australian Gallipoli casualty could sell for over £2,000. We often sell medals straight from the family, and the highest price paid for a medal group at Charterhouse was sold for the son of the recipient.
The medals sold were awarded to Ft Lt Richard Trevor-Roper. He was awarded the Distinguished Flying Cross for his part in The Dambusters Raid as Guy Gibson's rear gunner in the lead Lancaster. The medal group sold for an astonishing £148,000 to a collector. If you have a medal or group of medals, contact Richard Bromell at our salerooms 01935 812277 or send him images to info@charterhouse-auction.com and Richard will get back to you with a valuation.
All of our auctions use live internet bidding platforms to ensure that every lot, whether it is worth £20 or £500,000, reaches the widest possible market and sells for the best price possible. In the run up to an auction we receive 100's of emails requesting further information for lots in the sale. Attached to these email replies, we regularly send well over 1,000 digital images, such is the huge interest generated in our auctions.
WWII Pilots Log Books at Auction
The log books from a WWII pilot are being sold by Charterhouse in their specialist auction of medals, militaria, coins & stamps on 31st November.
"The two pilot log books chart the flying history of Lieutenant Commander Edmund Lockwood RN from 1938 to 1955." Commented Richard Bromell. "However, there is a gap between 1940 to 1945 as he was taken as a prisoner of war."
Edmund Lockwood qualified as a pilot in 1938. By the outbreak of war in 1939 he had already an experienced pilot having flown many hours.
In July 1940 he flew a Swordfish in several attacks on Tobruk harbour. On September 1st, on another Tobruk harbour attack, he failed, with his crew of Sub Lieutenant Kite and Leading Airman Simpson to return.
Whilst it is not known whether the Swordfish sustained damaged or suffered a mechanical failure, the three men spent 8 days in their emergency life raft finally making land near Tobruk where they were all taken prisoners by the Italians and spent the rest of the war as POW's.
These rare Royal Navy Pilot log books, with his Mentioned in Despatches certificate and the telescope he used when he first joined the Royal Navy in 1938, are being sold directly from the family and estimated at £400-600
Charterhouse are now accepting further entries for their forthcoming specialist auctions with, wine, port & whisky, designer goods, musical instruments, medals, stamps and toys in December and pictures, books & antiques in January along with Decorative Arts and Mid-Century Modern.
Richard Bromell and the Charterhouse Team can be contacted for advice and valuations at The Long Street Salerooms, Sherborne, 01935 812277 or via info@charterhouse-auction.com
Directly from the family – the RNAS Pilot log books from Lt Cmdr Edmund W Lockwood £400-600
The log books from a WWII pilot are being sold by Charterhouse in their specialist auction of medals, militaria, coins & stamps on 31st November. "The two pilot log books chart the flying history of Lieutenant Commander Edmund Lockwood RN from 1938 to 1955." Commented Richard Bromell. "However, there is a gap between 1940 to…
Continue Reading
Other Charterhouse Specialist Departments Available