Sporting
Department
Sell Something
Selling with Charterhouse
Where to Find Us
The West Country has been a popular destination for sporting men and women for centuries. During this time, houses have been furnished with silver sporting trophies, taxidermy, paintings, hunting jackets, riding boots, fishing rods, reels and tackle, shotguns, rifles and pistols amongst many other items.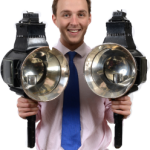 At Charterhouse we have specialist sales dedicated to sporting items with hunting, shooting and fishing sections. This department is run by George Holtby. Growing up in rural England, George has been interested in shooting and fishing since he was a boy. His particular interest lies in guns of all shapes and sizes, although he also has a soft spot for fishing tackle, particularly Hardy of Alnwick.
We have had some amazing results. These have ranged from a pair of Holland & Holland coaching lamps which sold for £2,300, a Black Forest bear for £2,700, to a 19th century oil painting of horses for £5,000.
Over the years, our sporting auctions produced a loyal following with bidders adding to their collections. We also sell lots to clients intending to use their purchases such as shotguns and fishing reels in their favourite past times.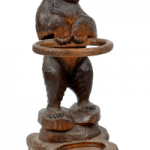 If you have a sporting item or collection you are thinking of having valued, contact George at our salerooms 01935 812277 or send a selection of images to gh@charterhouse-auction.com
All of our auctions use live internet bidding platforms to ensure that every lot, whether it is worth £20 or £500,000, reaches the widest possible market and sells for the best price possible. In the run up to an auction we receive 100's of emails requesting further information for lots in the sale. Attached to these email replies, we regularly send well over 1,000 digital images, such is the huge interest generated in our auctions.
Bidders are Bowled Over at Charterhouse
Three cricket bats and a stand are expected to sell for well over £1,000 when they go under the Charterhouse hammer in their April two day online auction in Sherborne.
"Having carried out a probate valuation for executors we were them asked to clear the property, a charming thatched Dorset cottage near Shaftesbury." Commented Richard Bromell. "The cricket bat stand, sitting at the top of the stairs, caught my eye pretty quickly. Having had an interest in cricket for several decades I was amazed  to see one of the bats was signed by both the England and Australian 1938 teams including cricketing legends Len Hutton, Denis Compton with Don Bradman."
The Sykes willow cricket bat with the team signatures was originally presented to Caius House School, probably by an old pupil or maybe even a parent, in July 1938. The family who lived in the cottage cleared by Charterhouse privately owned Caius House School near Shoreham-by-Sea for many years and retained the bats and stand after the school was closed.
Signatures by the Australian team include Don Bradman (Capt.), Stan McCabe, Sidney Barnes, Arthur Chipperfield and William O'Reilly. For England, the signatures include Wally Hammond (Capt.), Denis Compton, Len Hutton, Charlie Barnett, and Bill Edrich.
The names from both teams represent some of the most famous pre-war cricketers. The 1938 Ashes between Australia and England was drawn. England and Australia won a Test each, with two of the other Tests drawn and the third game of the series, scheduled for Manchester abandoned without a ball being bowled, only the second instance of this in more than 60 years of Test cricket. The Australians retained The Ashes.
Also in the cricket bat stand are two other bats. One is a well played Gunn & Moore Cannon cricket bat and the other a Victorian bat. This has a brass plaque on the back inscribed 'Presented to Charles Lancaster Esqr by Members of the Calcutta Exhibition Cricket Team for Excellent Batting 1883-84'.
The England v Australia signed cricket bat is estimated at £800-1,200, the Victorian bat with the presentation plaque £150-250 and the remaining bat and stand £100-200 when they are sold in the sporting sale on Thursday 8th April by Charterhouse Auctioneers in Sherborne, Dorset.
Charterhouse are now accepting entries for their busy programme of auctions including sporting items with pictures and books on Thursday 8th April, Asian art, antiques & interiors on Friday 9th April and their next specialist sales of classic & vintage cars and classic & vintage motorcycles.
Items for these auctions can be posted directly to Charterhouse at The Long Street Salerooms, Sherborne 01935 812277 or click and deliver by contacting them on 01935 812277. Alternatively email photographs of your lots for valuation on info@charterhouse-auction.com
Howzat! Richard Bromell with the cricket bats and stand
England v Australia 1938 signed cricket bat £800-1,200
Victorian cricket bat 1883-84 £150-250
Other Charterhouse Specialist Departments Available

Please use the form below to contact Charterhouse regarding valuations, buying, selling, bidding, home visits, catalogues etc.
Do you have an item or items you wish to have valued or sell?
Please contact us, or telephone us if you prefer.
If you decide to sell your items through Charterhouse we would be delighted to help.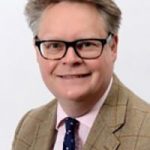 Richard Bromell has over 30 years of experience within the auction world. He originally started work in The Long Street Salerooms when it was owned by Phillips. Since then, he has worked for numerous firms of auctioneers from Bearne's in Torquay up to Tennants in Yorkshire.  If you call the office to arrange a free home visit, then it will probably be Richard who will see you at your property.  Since the 1990's, Richard has been involved in numerous antiques television programmes including Going for a Song (with both Michael Parkinson & Anne Robinson), Going, Going, Gone, Antiques Treasure Hunt, Antiques Road Trip and Flog It!  In 2003 and 2004, Richard was nominated as one of the top four auctioneers in the country at The British Antique & Collectors Awards (BACA). This was the first time an auctioneer has been nominated for two consecutive years.  What do you love about running Charterhouse? "The huge variety of items I see every day, from silver to medals. Every day is like Christmas, you never know what you are going to see!"
Opening Hours
We are open from Monday to Friday 9.00 am to 5.00 pm.
Please come to the saleroom at any time for a free verbal valuation.
Viewing for antique auctions Wednesday 10 am to 6 pm and Thursday 10 am to 5 pm during sale week.
Antique Auctions start at 10 am on Friday with viewing from 8.30 am until 9.45 am.
There is limited viewing during the sale.
Viewing days and times vary for car sales.
Please contact the office for details
enquiry@charterhouse-auction.com
Tel: (00 44)1935 812277
Opening Hours
We are open from Monday to Friday 9.00 am to 5.00 pm. Please come to the saleroom at any time for a free verbal valuation.
Our Sale Rooms in Long Street, Sherborne, Dorset
From The North Leave the M5 at Junction 25 and follow signs for Yeovil and then Sherborne. Sherborne Castle is on the South East side of the town.
From the East From the M3 take the A303 signposted Sherborne (via Wincanton)
From The West Take the A30 from Exeter and Honiton and follow signs to Yeovil then Sherborne
If you are thinking of staying in the area, the telephone number for
Sherborne Tourist Information is 01935 815341
accommodation we have recommended in the past, in order of proximity, includes;
The Eastbury Hotel 01935 813131
Bridleways 01935 814716
The White Post 01935 851525
A useful website for accommodation is www.sherbornetown.co.uk