Pictures and Prints
Department
Sell Something
Where to Find Us
Manner of El Greco, which had lain hidden in an attic, sold successfully for £98,000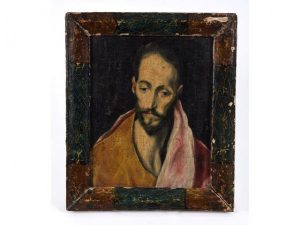 Beauty is in the eye of the beholder, or so they say. We regularly hold specialist picture auctions with lots receiving enquiries and bids from around the world.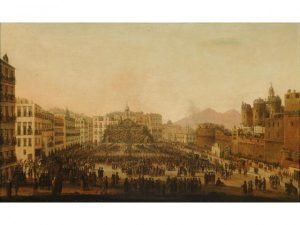 This combined with live internet bidding has resulted in some huge prices achieved, such as a small oil painting on a panel in the manner of El Greco of a Saint which came out of an attic. A real Antiques Roadshow discovery moment, it featured in our international trade paper and generated great pre-auction interest. On the day, a fierce bidding war got under way with the hammer falling to a London gallery at £98,000.
Another painting which sold very well, came out of a cottage where it had hung for many years. The owner had previously been advised by one of the large International auction houses at £20,000. Again, we featured the painting in our trade paper which drew in many dealers and collectors to the sale where the hammer came down at £61,000.
If you think you have a masterpiece hanging on your wall, whether you have inherited a watercolour, or if you have a pile of pictures hidden away in the attic, contact Richard Bromell or George Holtby at our salerooms 01935 812277 or send them images to info@charterhouse-auction.com
All of our auctions use live internet bidding platforms to ensure that every lot, whether it is worth £20 or £500,000, reaches the widest possible market and sells for the best price possible. In the run up to an auction we receive 100's of emails requesting further information for lots in the sale. Attached to these email replies, we regularly send well over 1,000 digital images, such is the huge interest generated in our auctions.
Queen Victoria's Sketch Book at Auction
**Edit** Charterhouse are delighted to have helped to facilitate the purchase of this gift by the Royal Collection, for an undisclosed sum. The sketchbook is one of 59 created by Queen Victoria, and the Royal Collection now have 58. Does any one have the last one we wonder? If so, please contact Charterhouse or the Royal Collection direct, who would be very happy to speak to you** A sketch book filled with drawings by Queen Victoria estimated to sell for £5,000-10,000 is entered into the Charterhouse two day auction in their Sherborne salerooms on Thursday 2nd and Friday 3rd March.
"It never ceases to amaze the wonderful items which we are instructed to auction." Commented Richard Bromell. "The owner was clearing a family property and came across the book and were delighted to hear how much it is worth."
The book contains pencil and watercolour drawing by Queen Victoria dating from 1885. On the book cover is her monogram under a crown. On the inside of the cover it is inscribed "On board the steamer Le Petit Parisien on the Lac de Bourget Ap(ril) 11 1885" and on pages are numerous pencil and watercolour drawings from dogs, train and continental journeys, mountains and lakes, and even a view at Frogmore dated July 1886. Frogmore Cottage in Windsor, is the UK residence of Prince Harry and Megan Markle today.
A family member of the sketch book owners, Miss Leta Smith, worked as a Royal Archivist in Windsor Castle from 1924 to 1957. She was awarded various medals for her service including an MVO (Member of the Victorian Order) presented to her by Queen Elizabeth II which are also included in the auction and it is assumed the sketch book was given to her.
The sketch book, along with the medals, personal letters and other ephemera belonging to Miss Leta Smith MVO, are all being sold by Charterhouse on Thursday 2nd March in their Sherborne salerooms. Viewing is from Monday 28th February onwards at The Long Street Salerooms, Sherborne. Alternatively, the sketch book and every page in the book can be viewed, with all their other lots, on www.charterhouse-auction.com
Charterhouse are now accepting further entries for their busy Spring programme of auctions including classic & collector cars on March 9th, classic & vintage motorbikes on March 30th, Automobilia on April 4th and Asian Art on April 5th.
Richard Bromell and the team at Charterhouse, The Long Street Salerooms, Sherborne, Dorset are available for help and valuations on 01935 812277 or via info@charterhouse-auction.com
Queen Victoria's sketch book, dating from 1885 onwards, estimated at £5,000-10,000 in the Charterhouse two day 2nd & 3rd March auction
Other Charterhouse Specialist Departments Available

Please use the form below to contact Charterhouse regarding valuations, buying, selling, bidding, home visits, catalogues etc.
enquiry@charterhouse-auction.com
Tel: (00 44)1935 812277
Opening Hours
We are open from Monday to Friday 9.00 am to 5.00 pm. Please come to the saleroom at any time for a free verbal valuation.
Our Sale Rooms in Long Street, Sherborne, Dorset
From The North Leave the M5 at Junction 25 and follow signs for Yeovil and then Sherborne. Sherborne Castle is on the South East side of the town.
From the East From the M3 take the A303 signposted Sherborne (via Wincanton)
From The West Take the A30 from Exeter and Honiton and follow signs to Yeovil then Sherborne
If you are thinking of staying in the area, the telephone number for
Sherborne Tourist Information is 01935 815341
accommodation we have recommended in the past, in order of proximity, includes;
The Eastbury Hotel 01935 813131
Bridleways 01935 814716
The White Post 01935 851525
A useful website for accommodation is www.sherbornetown.co.uk