Department
Sell Something
Selling with Charterhouse
Where to Find Us
Manner of El Greco, which had lain hidden in an attic, sold successfully for £98,000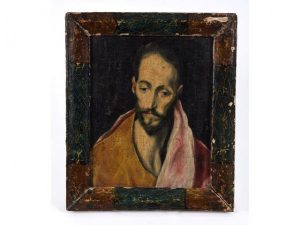 Beauty is in the eye of the beholder, or so they say. We regularly hold specialist picture auctions with lots receiving enquiries and bids from around the world.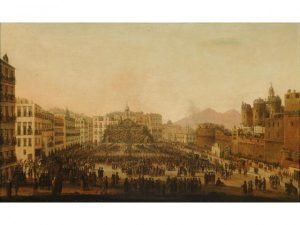 This combined with live internet bidding has resulted in some huge prices achieved, such as a small oil painting on a panel in the manner of El Greco of a Saint which came out of an attic. A real Antiques Roadshow discovery moment, it featured in our international trade paper and generated great pre-auction interest. On the day, a fierce bidding war got under way with the hammer falling to a London gallery at £98,000.
Another painting which sold very well, came out of a cottage where it had hung for many years. The owner had previously been advised by one of the large International auction houses at £20,000. Again, we featured the painting in our trade paper which drew in many dealers and collectors to the sale where the hammer came down at £61,000.
If you think you have a masterpiece hanging on your wall, whether you have inherited a watercolour, or if you have a pile of pictures hidden away in the attic, contact Richard Bromell or George Holtby at our salerooms 01935 812277 or send them images to info@charterhouse-auction.com
All of our auctions use live internet bidding platforms to ensure that every lot, whether it is worth £20 or £500,000, reaches the widest possible market and sells for the best price possible. In the run up to an auction we receive 100's of emails requesting further information for lots in the sale. Attached to these email replies, we regularly send well over 1,000 digital images, such is the huge interest generated in our auctions.
Country House Art

A collection of pictures from over the centuries removed from an English country house are going under the Charterhouse hammer in their two day October auction.
"It is certainly an eclectic selection of pictures showing how collecting taste has changed over the decades" Commented Richard Bromell. "Although my house has plenty of traditional art hanging on its walls, I must admit to liking some of the more modern art from this property."
Pictures from across the centuries have been consigned from this country house. There are religious paintings and classical engravings from the 18th and 19th centuries but it is the pictures from the 20th and 21st centuries which are expected to generate the most interest.
Dating to early 20th century there is a large oil painting of Nice, France. Painted by Gaston Boissier and measuring 6½ feet wide it depicts life between the wars on the Promenade des Anglais on a bright summer's day and is estimated at £5,000-7,000.
Moving to the late 20th century, there is an oil painting by Argentinian artist William Petty. He is best known for his sporting pictures with the Charterhouse painting titled 'Polo Fury' and estimated at £300-500.
Into the 21st century and two modern artists take centre stage. A Russell Young silkscreen on canvas picture of Elvis Presley, numbered 35 of a limited edition of just 50 from his Mug Shot series, Elvis is looking to leave the building estimated at £1,000-2,000.
Also estimated at £1,000-2,000 is a vast photograph by Alistair Morrison called 'The Actors Last Supper' after the famous picture by Leonardo da Vinci of 'The Last Supper'.
Measuring over 9 feet wide, the original photograph went on display in the National Portrait Gallery to great acclaim and caused quite a stir in 2012. Robert Powell is cast as Jesus, with his disciples including Colin Firth, Tom Conti, Michael Gambon, Steven Berkoff, Tim Piggot-Smith and Sir Antony Sher with Julie Walters as Mary Magdalene.
Charterhouse are now accepting entries for their next auctions with pictures, books and antiques on 7th October, Beswick, Doulton and antiques on 8th October, classic and vintage cars at the Haynes International Motor Museum on Tuesday 5th October with classic and vintage motorcycles, also at Haynes, on Thursday 14th October.
Richard Bromell and the team at Charterhouse can be contacted for advice and valuations or to a free home visit at The Long Street Salerooms, Sherborne 01935 812277 info@charterhouse-auction.com
Gaston Boissier, Promenade des Anglais, Nice, France, oil on canvas £5,000-7,000
William Petty, Polo Fury, oil on canvas £300-500
Russell Young, Elvis, Mug Shot series, silkscreen on canvas £1,000-2,000
Alistair Morrison, photograph The Actors Last Supper £1,000-2,000 (with and without Richard Bromell) £1,000-2,000
Other Charterhouse Specialist Departments Available

Please use the form below to contact Charterhouse regarding valuations, buying, selling, bidding, home visits, catalogues etc.
Do you have an item or items you wish to have valued or sell?
Please contact us, or telephone us if you prefer.
If you decide to sell your items through Charterhouse we would be delighted to help.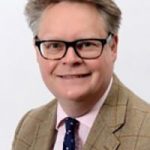 Richard Bromell has over 30 years of experience within the auction world. He originally started work in The Long Street Salerooms when it was owned by Phillips. Since then, he has worked for numerous firms of auctioneers from Bearne's in Torquay up to Tennants in Yorkshire.  If you call the office to arrange a free home visit, then it will probably be Richard who will see you at your property.  Since the 1990's, Richard has been involved in numerous antiques television programmes including Going for a Song (with both Michael Parkinson & Anne Robinson), Going, Going, Gone, Antiques Treasure Hunt, Antiques Road Trip and Flog It!  In 2003 and 2004, Richard was nominated as one of the top four auctioneers in the country at The British Antique & Collectors Awards (BACA). This was the first time an auctioneer has been nominated for two consecutive years.  What do you love about running Charterhouse? "The huge variety of items I see every day, from silver to medals. Every day is like Christmas, you never know what you are going to see!"
Opening Hours
We are open from Monday to Friday 9.00 am to 5.00 pm.
Please come to the saleroom at any time for a free verbal valuation.
Viewing for antique auctions Wednesday 10 am to 6 pm and Thursday 10 am to 5 pm during sale week.
Antique Auctions start at 10 am on Friday with viewing from 8.30 am until 9.45 am.
There is limited viewing during the sale.
Viewing days and times vary for car sales.
Please contact the office for details
enquiry@charterhouse-auction.com
Tel: (00 44)1935 812277
Opening Hours
We are open from Monday to Friday 9.00 am to 5.00 pm. Please come to the saleroom at any time for a free verbal valuation.
Our Sale Rooms in Long Street, Sherborne, Dorset
From The North Leave the M5 at Junction 25 and follow signs for Yeovil and then Sherborne. Sherborne Castle is on the South East side of the town.
From the East From the M3 take the A303 signposted Sherborne (via Wincanton)
From The West Take the A30 from Exeter and Honiton and follow signs to Yeovil then Sherborne
If you are thinking of staying in the area, the telephone number for
Sherborne Tourist Information is 01935 815341
accommodation we have recommended in the past, in order of proximity, includes;
The Eastbury Hotel 01935 813131
Bridleways 01935 814716
The White Post 01935 851525
A useful website for accommodation is www.sherbornetown.co.uk