Jewellery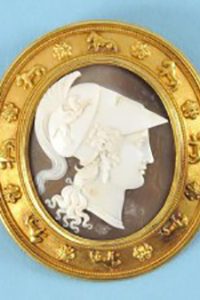 Charterhouse hold four specialist jewellery, watch and silver auctions per year which are always very well attended by both members of the public and the trade, ensuring constant impressive results and a very high selling rate. Each piece will be valued with the care that this most sentimental subject matter deserves and will placed in the most suitable auction.
Our specialists have many years of experience in the field and is fully conversant with all types of jewellery whether it be Georgian paste, Victorian Etruscan revival by Castellani, the exquisite quality of Belle Époque Cartier, the 1960's Scandinavian designers, a certificated diamond or inherited family heirlooms.
Valuations for auction, probate, family division or insurance can be carried out in house, at a client's home for larger collections or at a safe deposit facility.
All of our auctions use live internet bidding platforms to ensure that every lot, whether it is worth £20 or £500,000, reaches the widest possible market and sells for the best price possible. In the run up to an auction we receive 100's of emails requesting further information for lots in the sale. Attached to these email replies, we regularly send well over 1,000 digital images, such is the huge interest generated in our auctions.
For further information regarding this article, please contact Naomi Grabham, email; ng@charterhouse-auction.com
Diamonds are forever
There is a great selection of jewellery, silver and watches in the Charterhouse two day May auction including an Edwardian diamond bangle.
"The market for silver, jewellery and watches remains high at auction and we have seen strong bidding across all three specialist departments." Commented Richard Bromell. "If you can combine quality and wearability it always ends up with a great result."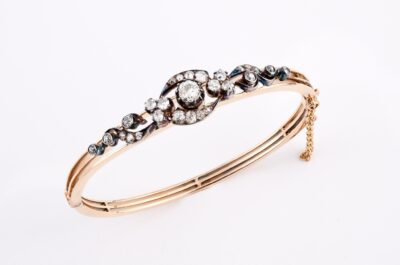 Included in the hundreds of lots of silver, jewellery and watches is a delightful Edwardian gold and diamond hinged bangle. It was hidden away in a box for years and recently discovered by a family member when sorting through their mothers possessions and took it in to Charterhouse on one of their specialist valuation days at their Sherborne salerooms.
Estimated at £1,000 it was then entered into the Charterhouse two day auction on the 4th & 5th May
Charterhouse are now accepting further entries of silver, jewellery and watches for this specialist sale. Richard Bromell and the team at Charterhouse Auctioneers can be contacted on 01935 812277, email rb@charterhouse-auction.com or pop in to The Long Street Salerooms in Sherborne for a valuation.
Delightful diamonds – an Edwardian diamond and gold hinged bangle £1,000-1,500
Other Charterhouse Specialist Departments Available