Books
Department
Sell Something
Where to Find Us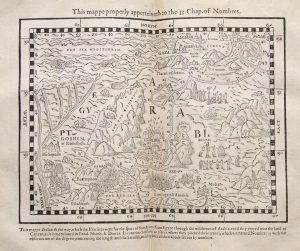 A Bible, 1560, incomplete and with hand written annotations to the margins, sold to an American collector for £8,000
It is certainly true that you must "never judge a book by its cover", as one of the great book discoveries made by Richard Bromell was a 17th century Breeches bible. It was camouflaged in a 19th century binding and looking like a Victorian bible, the content was much more valuable than a typical Victorian bible worth less than £50. Richard, who has been involved in auctioneering for nearly 30 years, spent a couple of years running a book department. Perhaps the strangest things about books is that age does not matter, as already mentioned, a 150 year old Victorian bible can be worth less than £50, but a first edition Harry Potter can sell for £25,000!! With regular specialist book sections, Charterhouse has successfully sold vast quantities of volumes over the years from single tomes to complete libraries. All of our auctions use live internet bidding platforms to ensure that every lot, whether it is worth £20 or £500,000, reaches the widest possible market and sells for the best price possible. In the run up to an auction we receive 100's of emails requesting further information for lots in the sale. Attached to these email replies, we regularly send well over 1,000 digital images, such is the huge interest generated in our auctions.
For further information regarding selling books at auction, please contact Richard Bromell, Director rb@charterhouse-auction.com
Other Charterhouse Specialist Departments Available

Please use the form below to contact Charterhouse regarding valuations, buying, selling, bidding, home visits, catalogues etc.
enquiry@charterhouse-auction.com Tel: (00 44)1935 812277
Opening Hours
We are open from Monday to Friday 9.00 am to 5.00 pm. Please come to the saleroom at any time for a free verbal valuation. Our Sale Rooms in Long Street, Sherborne, Dorset From The North Leave the M5 at Junction 25 and follow signs for Yeovil and then Sherborne. Sherborne Castle is on the South East side of the town. From the East From the M3 take the A303 signposted Sherborne (via Wincanton) From The West Take the A30 from Exeter and Honiton and follow signs to Yeovil then Sherborne If you are thinking of staying in the area, the telephone number for Sherborne Tourist Information is 01935 815341 accommodation we have recommended in the past, in order of proximity, includes;
The Eastbury Hotel 01935 813131
Bridleways 01935 814716
The White Post 01935 851525
A useful website for accommodation is www.sherbornetown.co.uk