A gentleman's Rolex Yacht-Master wristwatch and a gentleman's Breitling Super-Ocean wristwatch are set to go head to go head to head in the Charterhouse 5th May auction of watches, silver & jewellery.
"Premium brands, such as these Rolex and Breitling wristwatches always generate great interest and command a premium price." Commented Richard Bromell. "Both are in great condition, with their respective boxes and papers, and will appeal not only to sailors but also keen collectors of wristwatches."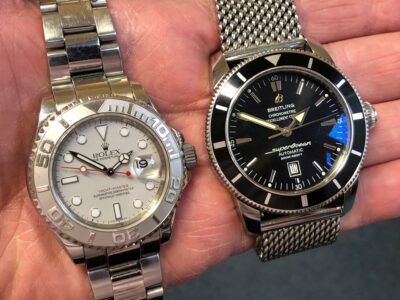 The Rolex Yacht-Master is estimated to sell for £5,000-7,000 and the Breitling Super-Ocean £1,800-2,200 in this Charterhouse auction.
Charterhouse are now taking further entries for their busy programmes of specialist auctions with silver, jewellery, watches, wine, port & whisky in May, classic motorcycles in June and classic and vintage cars in July.
Richard Bromell and the team at Charterhouse can be contacted for advice and valuations on single items and collections at The Long Street Salerooms, Sherborne 01935 812277 info@charterhouse-auction.com 
Rolex Yacht-Master (on the left) £5,000-7,000
Breitling Super-Ocean (on the right) £1,800-2,200