Warmer Times
A watercolour drawing of children out walking in late summer is one of a collection of pictures in the Charterhouse two day 5th & 6th January auctions.
"With having been so cold recently I found myself almost transfixed on this picture with its late summer warm evening." Commented Richard Bromell. "I have always had huge admiration for artists as I struggle to even draw stick men properly!"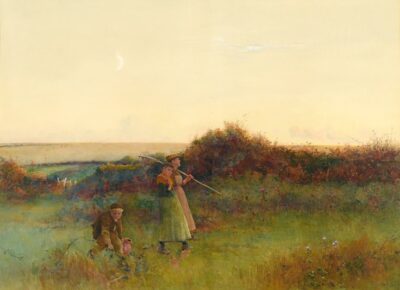 The watercolour, painted by Benjamin Signmund, depicts two young girls walking home with one carrying a wooden hay rake, whilst a young boy, probably their brother, stops to pick some berries.
The watercolour is one of several pictures from a Dorset Collection. Estimated at £500-1,000 it is part of the first Charterhouse auction of 2023 on Thursday 5th and Friday 7th January. Viewing for the auction is from Tuesday 3rd January with the catalogue available on www.charterhouse-auction.com
Charterhouse are now accepting further entries for their busy programme of auctions including silver, jewellery & watches in February, classic cars in March and also classic motorbikes in March. Richard Bromell and the team at Charterhouse, The Long Street Salerooms, Sherborne, Dorset are available for help and valuation on 01935 812277 or via info@charterhouse-auction.com
Captions;
Benjamin Sigmund – a watercolour drawing of warmer times