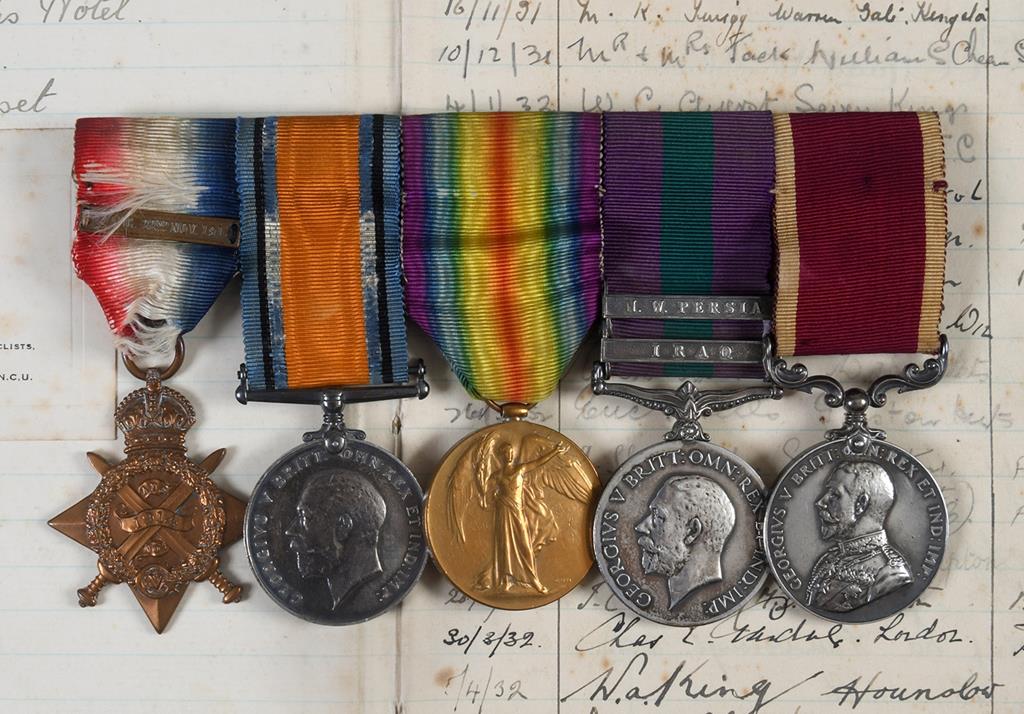 The Charterhouse two day September collector's auction on the 9th & 10th September includes a group of First World War medals to a Somerset lad.
"The market for medals continues to be strong with collectors looking to add to their collections." Commented Richard Bromell. "This combined with fresh to the market medals with a good side story produces great results."
The group of medals being sold by Charterhouse were awarded Farrier Staff-Sergeant Stanley Layzell and come to the auction directly from a family relation.
Layzell served in the Royal Artillery from the start of the First World War through to North West Persia and Iraq after the First World War. In addition, he was awarded a Long Service and Good Conduct Medal for exemplary service.
Having served for King and Country, he settled down in Chard where he ran The Choughs Hotel. With the medals is a guest book from the hotel dating to 1931 with his business card glued in the front "Good Accommodation for Motorists & Cyclists, Garage & Good Stables". The last entry in the book dates to 1935.
Also with the lot is a letter from the Royal Army Service Corps dated 19th June 1931. Addressed to Stan, albeit in poor condition, the type letter notes the gift of a silver cigarette case "…when you handle this case, we hope it will remind you of some happy occasions spent in our company, and, when puffing away at your 'weed', bear in mind all of us have expressed a unanimous wish for your good health, happiness and prosperity, in your new sphere… In conclusion, once again let us wish you all the best of good things, not only for yourself, but for Mrs Layzell and the baby…."
The silver presentation cigarette case looks to have been appreciated and well used by Stan as it bears many dents.
The medals, visitor book, letter and silver presentation cigarette case being sold by Charterhouse are estimated at £300-500 when they go under the auctioneers gavel on Thursday 9th September.
Charterhouse are now accepting entries for this specialist auction of coins, medals and stamps on 9th September and model cars, toys, clocks & collector's items on Friday 10th with classic and vintage cars at the Haynes International Motor Museum on Tuesday 5th October with classic and vintage motorcycles, also at Haynes, on Thursday 14th October.
Richard Bromell and the team at Charterhouse can be contacted for valuations and to arrange a free home visit at The Long Street Salerooms, Sherborne 01935 812277 info@charterhouse-auction.com

The medals, silver cigarette case, letter and The Choughs Hotel, Chard visitors book being sold by Charterhouse in Sherborne on Thursday 9th September £300-500