Silver Sells
A collection of silver, which has been put away in boxes for some time, is included in the Charterhouse specialist auction of silver, jewellery and watches in February.
"Last year the market for silver, jewellery and watches was particularly strong and we are expecting 2023 to be the same." Commented Richard Bromell.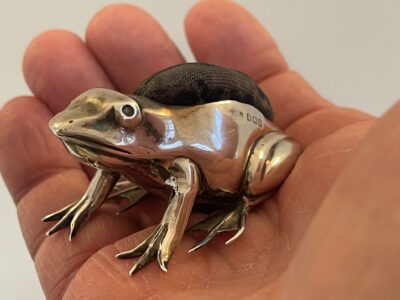 The silver had been amassed by a collector in Norfolk. Sadly he passed away and the collection was inherited by his sister who lives in Dorset. She was recently having some painting carried out in her house which made her have a sort through the boxes of silver when she asked for help and advice from Charterhouse.
Items in the collection range from silver tea caddies, goblets, christening mugs and cutlery, but perhaps the most interesting and amusing item is a silver pincushion in the form of a frog.
At 96 years old, this frog might not have been kissed by a princess, but it has certainly been well loved over the years. The blue velvet pad for the pins to rest in is well worn as are the silver hallmarks due to decades of being cleaned. In addition, the frog has received a blow to its right eye. Despite all this, the charming little piece of silver is estimated to sell for £100-150 in the Charterhouse auction.
Charterhouse are now accepting further entries for their busy programme of auctions including silver, jewellery & watches in February, classic cars in March and also classic motorbikes in March. Richard Bromell and the team at Charterhouse, The Long Street Salerooms, Sherborne, Dorset are available for help and valuation on 01935 812277 or via info@charterhouse-auction.com
Captions;
Well-loved novelty silver pincushion in the form of a frog £100-150 in the Charterhouse February auction of silver, jewellery & watches