A little silver box with a singing bird movement is one of the hundreds of lots in the Charterhouse 3rd August auction of silver, jewellery and watches.
"Our specialist auctions of silver, jewellery and watches are always popular." Commented Richard Bromell. "Combined with a strong market has resulted in many great results."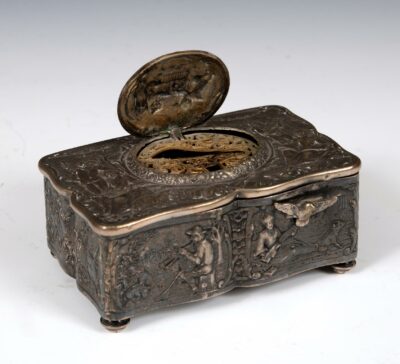 The box, which date to towards the end of the 19th century, would have been an exotic item to own when new. Whereas today most people have access to music, online via streaming services such as Spotify, 150 years ago access to listen and hear music was very limited.
Charterhouse are now accepting further entries for this auction of silver, jewellery and watches, with specialist auctions of automobilia followed by rock'n'pop, vinyl & film memorabilia in September
Richard Bromell and the Charterhouse Team can be contact for valuations at The Long Street Salerooms, Sherborne or on 01935 812277 or rb@charterhouse-auction.com
Silver singing bird box £400-600