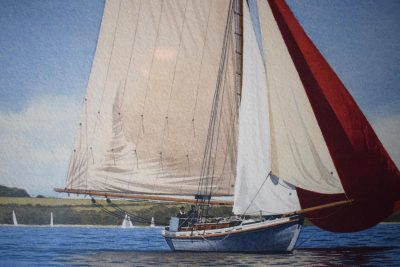 A collection of maritime pictures by modern day Cornish artist Terry Bailey are going under the Charterhouse hammer on Friday 27th July.
"The pictures, which come from a Somerset deceased estate, were collected over a number of years by a retired Royal Navy Fleet Air Arm officer who had a huge love of the sea and sailing ships." Commented Richard Bromell. "The pictures will no doubt tempt buyers to bid who enjoy the sea, Cornwall, sailing ships and wonderful draughtsmanship."
Terry Bailey is best known for his paintings of yachting scenes, both historical and contemporary. Born in Manchester in 1941 he moved to the West Country in 1970.
He has won numerous awards, appeared in many magazines and his pictures are for sale not only in the UK but also in America.
Included in the collection of pictures by Terry Bailey there are watercolour drawings titled "Deliverance off St Mawes", August Sailing off St Mawes", and "Off Carrick Nath Point St Mawes" which are estimated to sell from £200 to £600.
Charterhouse are now accepting further entries for this 27th July auction of pictures, books, maps and antiques. They are also accepting entries for their 15th July auction of classic & vintage cars at Sherborne Castle and their sale of classic & vintage motorcycles on 31st August at Netley Marsh.
For further information regarding these auctions please contact Richard Bromell or George Holtby at Charterhouse, The Long Street Salerooms, Sherborne 01935 812277 or via email info@charterhouse-auction.com
Captions:
The Terry Bailey original watercolour drawings being sold by Charterhouse on 27th July including:
Off Carrick Nath Point St Mawes £200-400
August Sailing off St Mawes £400-600
Deliverance off St Mawes £400-600