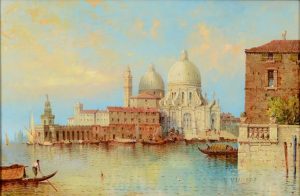 A collection of pictures from a Dorset deceased estate are to be sold in the first Charterhouse auction of the New Year.
"The pictures have been collected over a period of years, hung on the walls and enjoyed." Commented Richard Bromell. "They generally date from the Victorian period onwards but there are also some more modern and contemporary pictures which work well with the more traditional subjects.
Included in the collection are a pair of oil paintings by William Meadows with a view of Santa Maria della Salute from the Grand Canal and its pair. Dating towards the end of the 19th century, signed and measuring 39 x 60 cm this pair of pictures are estimated at £1,500-2,500.
Also showing life in the Victorian age, but no in such a romantic way as a view in Venice is an oil painting by Nicolas Condy. A West Country artist, the Charterhouse picture portrays a harsh existence in a rustic kitchen and is estimated at £1,000-1,500.
Moving forward to the 20th century and country pursuits, are a pair of gouache pictures by Lionel Edwards. He was an artist who specialised in painting horses and aspects of British country life. The pair going under the Charterhouse hammer depict hare and stag hunting and are estimated at £800-1,200.
Lionel EdwardsCharterhouse is now accepting further entries for their busy programme of specialist auctions which include pictures and books along with sections of Beswick and automobilia on 19th January with classic motorcycles on 4th February and classic cars on 11th February.
For further information regarding these auctions, or to arrange a home visit, please contact Richard Bromell at Charterhouse, The Long Street Salerooms, Sherborne 01935 812277 or email items for valuation at info@charterhouse-auction.com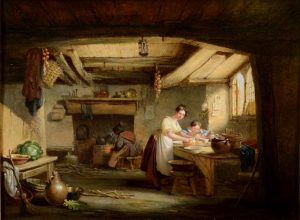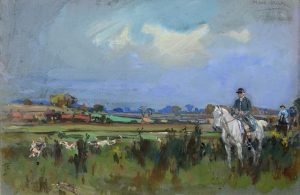 Captions:
William Meadows, views in Venice, a pair £1,500-2,500
Nicolas Condy, a rustic cottage interior, £1,000-1,500
Lionel Edwards, hare hunting, a pair £800-1,200