Included in the Charterhouse two day auction on 8th & 9th July are pictures covering centuries of art.
"Having been married for just shy of 30 years, paintings and art are one of the points which Mrs B and I do not always agree on." Commented Richard Bromell. "Over the decades she has generally been tolerant of me buying art at auction but every so often I have to re-offer the picture back in the salerooms as no means no!"
What is Art? is a question often asked but never satisfactorily answered. In the Charterhouse auction are two completely different pictures from completely different times and will no doubt appeal to completely different buyers.
First up there is an Italian Old Master drawing attributed to Jacopo Chimenti, known as Jacopo da Empoli. Born in Florence 1554 he had a long life and died in 1640. The brown ink, pen and wash drawing depicts the Madonna and Child appearing to Saints and is estimated at £1,000-2,000.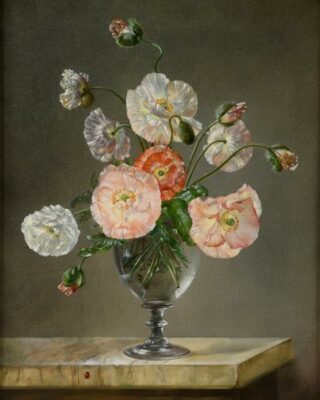 Moving forward to the late 20th century, and estimated to sell for twice as much, is an oil painting by Cecil Kennedy. Like Jacopo, Cecil lived a long live from 1905 to 1997. He is known for his highly detailed paintings of flowers and the Charterhouse picture does not disappoint. Painted with a vase of flowers on a marble ledge the flowers are lifelike, as is the little Ladybird also painted climbing up the marble edge.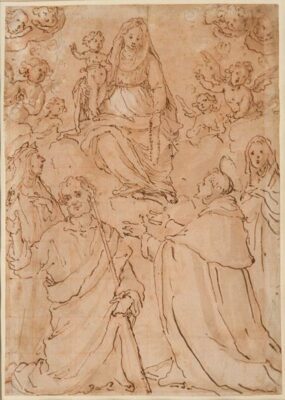 Charterhouse are now accepting entries for their specialist auctions of pictures & books 8th July, mid-century modern & decorative arts 9th July, classic motorcycles on 30th June, and for their auction of classic & vintage cars on 15th July.
Richard Bromell and the team of experts at Charterhouse can be contacted for entries at The Long Street Salerooms, Sherborne 01935 812277 info@charterhouse-auction.com or via www.charterhouse-auction.com
Captions:
Jacopo Chimenti (1554-1640) Madonna and Child appearing to Saints £1,000-2,000
Cecil Kennedy (1905-1997) Still live with flowers in a vase on a marble ledge with a Ladybird £2,000-4,000