A rare Lachenal concertina is ready to make more music in the Charterhouse two day collectors auction on 30th November and 1st December.
"The market for musical instruments remains vibrant and it is not only Stradivarius violins which attract attention!" Commented Richard Bromell.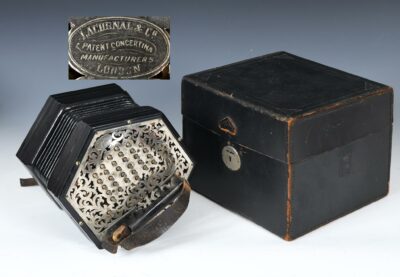 Although perhaps sounding French, Lachenal are a British company who produced a range of fine concertinas in the 19th century. The Charterhouse concertina is in good original condition, no doubt helped by remaining in its original travelling case.
Brought into their Long Street Salerooms in Sherborne on a valuation day the owner was pleased to hear the concertina is estimated at £300-500, and the next Charterhouse musical instrument valuation day is on Friday 10th October.
Charterhouse are now accepting entries for their forthcoming specialist auctions with, musical instruments, medals, stamps and toys in December and pictures, books & antiques in January.
Richard Bromell and the Charterhouse Team can be contacted for advice and valuations at The Long Street Salerooms, Sherborne, 01935 812277 or via info@charterhouse-auction.com
Lachenal concertina £300-500 in the Charterhouse two day collectors auction