A collection of over 160 stick pins is being sold without reserve in the Charterhouse auction of jewellery, silver and watches in Sherborne on Thursday 2nd November.
"It's a fabulous collection of over 160 stick pins amassed by the owner over a 50-year period." Commented Richard Bromell.
Sign up for Catalogue here – coming soon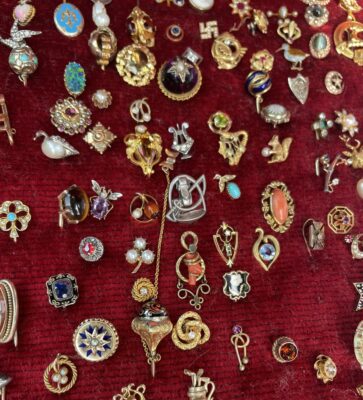 The stick pins come in all shapes and size with gold, diamonds and other precious stones estimated from £30 to £250. In the collection, there is the very first stick pin bought costing £4 and the very last one she purchased – a gold stick pin decorated a dragon clutching a diamond estimated at £150-250.
The collection of stick pins forms part of three days of Charterhouse auctions, with Asian Art on Wednesday 1st, silver, jewellery & watches on Thursday 2nd and then textiles, antiques & interiors on Friday 3rd November.
Viewing is from Monday 30th October at the Long Streets Salerooms, Sherborne, or you can see all the lots and bid live online via www.charterhouse-auction.com
Charterhouse are now accepting entries for their forthcoming specialist auctions wit, medals, stamps and toys in December and pictures, books & antiques in January.
Richard Bromell and the Charterhouse Team can be contacted for advice and valuations at The Long Street Salerooms, Sherborne, 01935 812277 or via info@charterhouse-auction.com
Captions:
Part of the collection of stick pins, amassed over a 50-year period
Gold and diamond dragon brooch, the last one bought £150-250