A group of medals and militaria awarded to the one family spanning nearly 100 years are entered into the Charterhouse specialist auction of medals, militaria, coins and stamps in their Sherborne salerooms on Thursday 2nd March.
"We have had the honour and pleasure to sell a wide variety of medals and militaria over the decades." Commented Richard Bromell. "Most of these consigned have been sold by collectors but this family group are being sold by a descendant of the which is more unusual but much more interesting as there are old photos, uniform parts and even over 100-year-old school rugby jersey and caps."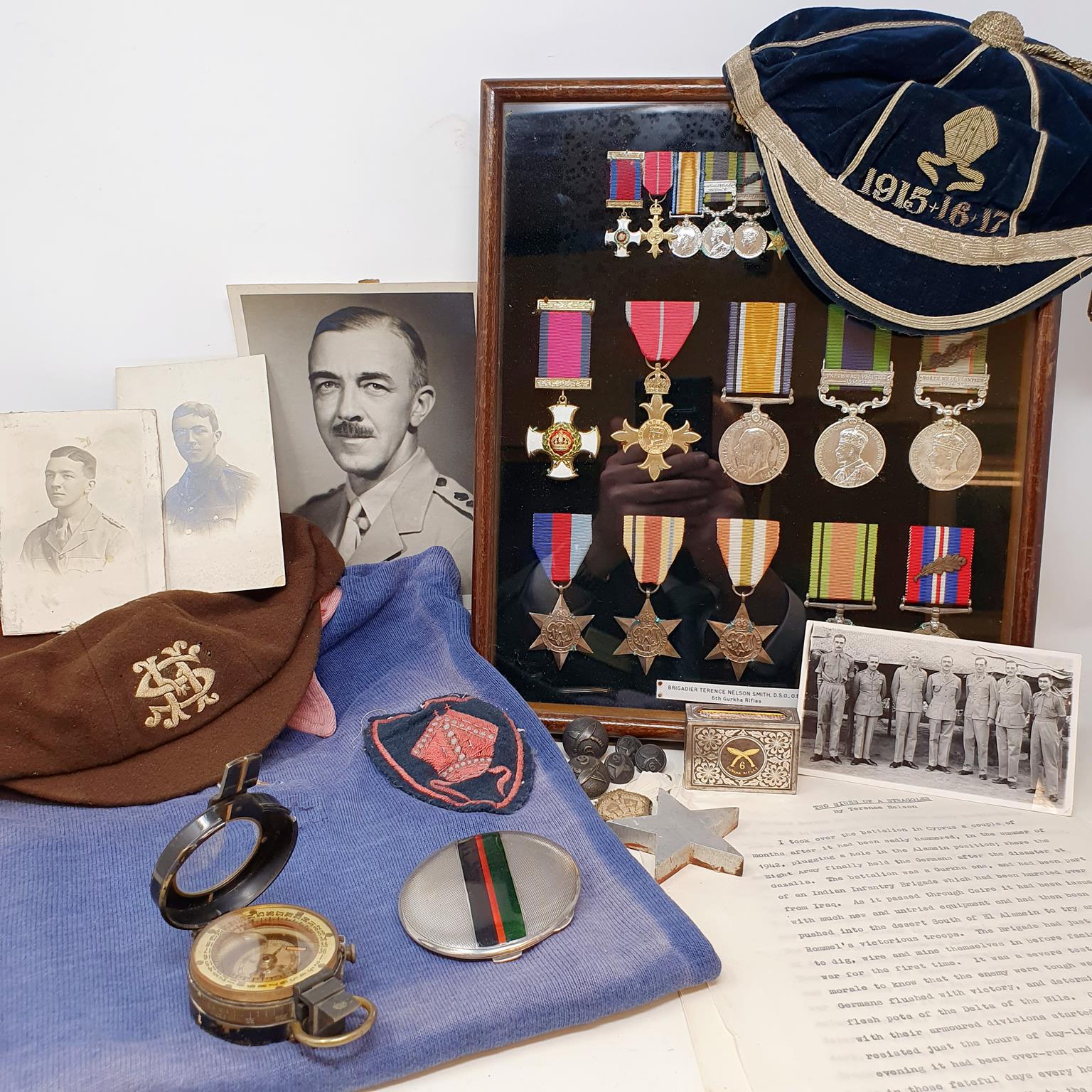 The medals and militaria relate to the Smith family. Unusually, one of the family members changed their name from Smith to Smyth and in doing so went back to his Irish heritage.
Highlight of the Smith & Smyth collections are items belonging to Brigadier Terence Nelson Smith DSO OBE who served with 6th Gurkha Rifles. Born in 1899 he died in 1969. There are his group of ten medals including his Distinguished Service Order (DSO) which give an insight to his service from the First World War through to the Second World War.
In addition to the medals, there are his school rugby shirt and rugby caps, understood to be from St Bedes, Edinburgh, photos from the 1920's when in India, military buttons and insignia, and even a diary extract noting his fiancé finally accepted his offer of marriage after 7 proposals!!
The medals, militaria and associated items relating to Brigadier Terence Nelson Smith are estimated at £2,500-3,500 when they go under the Charterhouse auction gavel.
Charterhouse are now accepting further entries for their busy March programme of auctions including coins, medals, stamps & collectors on the 2nd March, antiques & interiors on the 3rd, classic & collector cars on the 9th and then classic & vintage motorbikes on the 30th.
Richard Bromell and the team at Charterhouse, The Long Street Salerooms, Sherborne, Dorset are available for help and valuations on 01935 812277 or via info@charterhouse-auction.com
The medals and related items from the estate of the late Brigadier Terence Nelson Smith DSO OBE £2,500-3,500