A rare token of love in the Charterhouse auction of jewellery, watches and silver on Thursday 2nd February, will make a perfect Valentines Day gift for a lucky person.
"The worry of buying a present for your loved one at Christmas is now just a distant memory as some of us now worry what special gift to get for Valentine's Day. Commented Richard Bromell.
The pendant, estimated at £400-600, has a miniature watercolour of an eye inset in a frame of paste set in a yellow coloured metal mount. Whilst we will never know the identity of the sitter, the eye would have been a gift from the sitter to a secret lover.The pendant, with other fantastic jewellery, watches and silver, will be sold on Thursday 2nd February followed by a single owner collection of dolls, antiques and interiors on Friday 3rd February.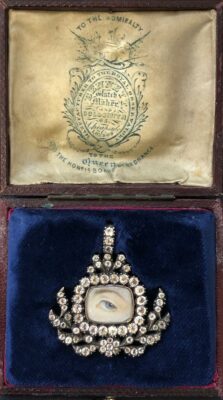 Charterhouse are now accepting further entries for their busy programme of auctions including coins, medals, stamps and collectors in March along with classic cars followed by classic motorbikes also in March.
Richard Bromell and the team at Charterhouse, The Long Street Salerooms, Sherborne, Dorset are available for help and valuations on 01935 812277 or via info@charterhouse-auction.com
Eye, eye….. the lovers miniature eye pendant £400-600 in the Charterhouse auction of jewellery on 2nd February