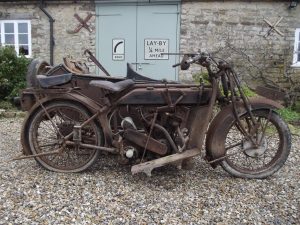 We have been conducting classic and vintage motorcycle auctions for 16 years. What originally started out with one auction has grown to seven specialist sales every year. This department is headed up by self confessed petrol head Matthew Whitney, Associate Director.
Matthew travels extensively during his working day seeing single vehicles to complete collections and we have sold motorcycles for clients throughout England and Wales, up to Scotland, across to Ireland. Matthew was a keen school boy motocross motorcyclist who raced in many competitions more years ago than he wishes to remember.
Over the years we have sold millions and millions of pounds of cars and motorcycles, and one classic car auction totaled just under £500,000. Highlights of the vehicles we have sold are Barn stored Matchless with side car sold for £13,200
All of our auctions use live internet bidding platforms to ensure that every lot, whether it is worth £20 or £500,000, reaches the widest possible market and sells for the best price possible. In the run up to an auction we receive 100's of emails requesting further information for lots in the sale. Attached to these email replies, we regularly send well over 1,000 digital images, such is the huge interest generated in our auctions.
For further information regarding our classic motorcycle sales, and our classic and vintage car sales, please contact
Matthew Whitney, Associate Director mw@charterhouse-auction.com or 01935 812277 email: bikes@charterhouse-auction.com