A small watercolour drawing by modern British artist Mary Fedden, which was bought for peanuts in a church fete in Somerset, is estimated to sell for thousands of pounds when it goes under the Charterhouse hammer on Friday 27th July.
"I have always admired Mary Fedden as an artist. I recognised the picture being her work as soon as it was taken out of the plastic carrier bag when the owner brought it to our salerooms to be valued." Commented Richard Bromell. "The owner bought the little picture of fruit at a church fete just because she liked the look of it rather than because she thought it was worth a great deal. Her curiosity then led her to look the artist up on-line which was when she thought it should be looked at by an expert and brought the picture to Charterhouse."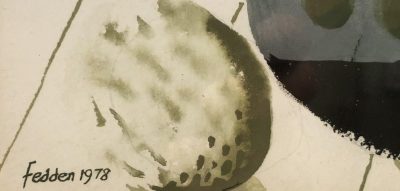 Mary Fedden was born in 1915 in Bristol and always wanted to be an artist. Mary developed her own style of painting flowers and held a solo exhibition every year from 1950 until her death in 2012.
She was an academician at the Royal Academy, was awarded an OBE, an honorary doctorate from the University of Bath and taught painting at the Royal College of Art where one of her pupils included David Hockney.
Today her work is highly sought after by galleries, dealers, institutions and collectors and this little watercolour drawing, dated 1978 which measures just 17.5 cm x 18.5 cm, is estimated to sell for £1,000-2,000 when it goes under the Charterhouse hammer on Friday 27th July.
Charterhouse are now accepting further entries for this 27th July auction of pictures, books, maps and antiques. They are also accepting entries for their sale of classic & vintage motorcycles on 31st August at Netley Marsh and their 12th September auction of classic & vintage cars.
For further information regarding these auctions please contact Richard Bromell or George Holtby at Charterhouse, The Long Street Salerooms, Sherborne 01935 812277 or via email info@charterhouse-auction.com
Caption:
The Mary Fedden original watercolour drawing being sold by Charterhouse on 27th July £1,000-2,000