A model of a racing 1924 Alfa Romeo which was played with by its owner decades ago is estimated to sell for £2,000 in the Charterhouse online auction of automobilia and memorabilia on Thursday 29th September.
"The owner, who lives in Devon, played with the clockwork car for years." Commented Richard Bromell. "And then the teenage years came along and his interests changed from models to full sized cars and it was relegated to a cupboard."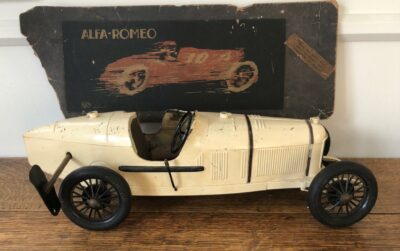 The clockwork Alfa Romeo P2 was made in France by the Industrial Toy Company. From 1924-1930 the Alfa Romeo P2 was victorious in 14 Grand Prix and other major events including the Targa Florio and was one of the most iconic Grand Prix cars of the 1920's.
The Alfa Romeo P2 at Charterhouse has certainly been well loved and played with over the years. It has clearly been involved in a few racing crashes and been re-painted at some point. Despite this, it is estimated to sell for £1,500-2,000 when it goes under the auctioneers gavel along with other models, automobilia and memorabilia such as vinyl records and film posters, all perfect for a study, garage or man-cave.
All the lots, with live internet bidding, are on www.charterhouse-auction.com
Richard Bromell and the team at Charterhouse can be contacted for valuations at The Long Street Salerooms, Sherborne 01935 812277 info@charterhouse-auction.com where they are taking further entries for their two day October auction of pictures, prints, books and sporting items and for their specialist classic cars and classic motorcycles also in October.
An Alfa Romeo P2 clockwork model car £1,500-2,000 in the Charterhouse online Automobilia & Memorabilia Auction on 29th September