An oil painting by Jan Josef Horemans, which lived in the attic of a Dorset cottage for decades, has been discovered by Charterhouse and valued at £4,000-6,000.
"We have made some great discoveries over the decades and still continue to do so today." Commented Richard Bromell. "You never know what you will see when visiting clients, but in attics it is generally Christmas decorations and empty suitcases!"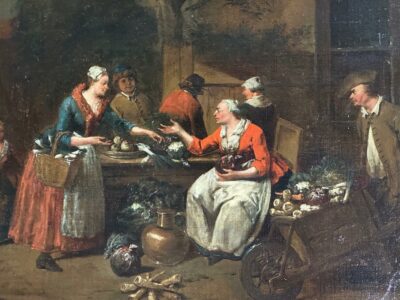 Jan Josef Horemans was the leading chronicler of everyday life in Antwerp in the first half of the 18th century. He was mainly known for his genre scenes, but he also painted portraits and historical allegories.
The painting was inherited by the owners many years ago from a family member. Having moved house 15 years ago the picture was simply put in the attic and forgotten about until they recently decided to have a sort out and a tidy when they asked Charterhouse to visit them for some help and auction advice.
Charterhouse are accepting further entries for this auction of pictures and prints on 6th July.
Richard Bromell and the team at Charterhouse, The Long Street Salerooms, Sherborne can be contacted on 01935 812277 for valuations and advice.
Relegated to the attic – Jan Joseph Horemans £4,000-6,000