A gold pocket watch, with an unusual repeat movement, is included in the Charterhouse two day May auction of watches, silver and jewellery.
"This is a very smart pocket watch and would have been used by a very smart gentleman." Commented Richard Bromell. "Whilst many people today rely upon a wristwatch or telephone to tell the time, this pocket watch is still running well today and repeats the quarters should you need to know the approximate time in the dark!"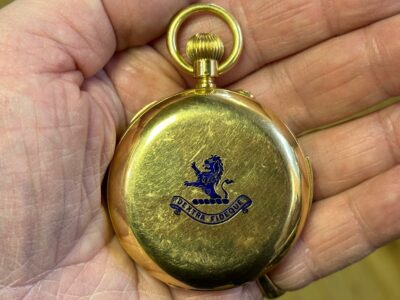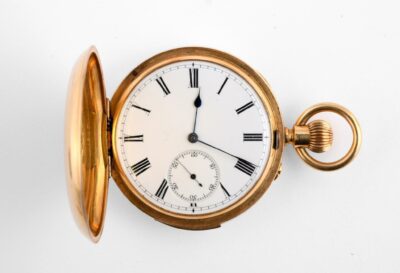 The 18ct gold pocket watch, being a full hunter with an enclosed case, has languished in a safe deposit box for many years. The back of the case is engraved with a crest and with the motto below "Dextra Fideque" which translates to "By my right hand and my faith".
Included in the hundreds of lots of silver, jewellery and watches this pocket watch is estimated to sell for £1,000-2,000 in the Charterhouse two-day auction on the 4th & 5th May
Charterhouse are now accepting further entries of silver, jewellery and watches for this specialist sale. Richard Bromell and the team at Charterhouse Auctioneers can be contacted on 01935 812277, email rb@charterhouse-auction.com or pop in to The Long Street Salerooms in Sherborne for a valuation.Time is money – an 18ct gold hunter pocket watch £1,000-2,000