Three porcelain graduated plates, with the American Presidential Seal, are included in the Charterhouse two-day auction of collectors' items on Thursday 1st June & Friday 2nd June.
"It never ceases to amaze me what we see and are asked to auction." Commented Richard Bromell. "These three plates are certainly a long way from home, and it will be interesting to see where they end up going to after the auction gavel has come down, whether to America or not."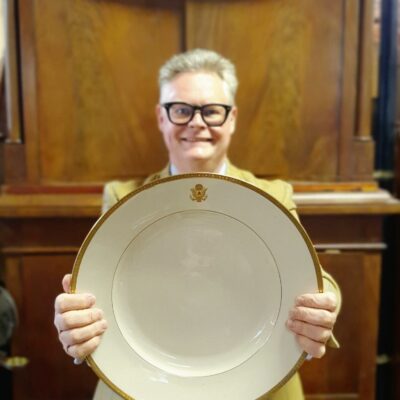 The three plates came to Charterhouse when they were asked to remove items for auction in a semi-detached cottage in Dorset. Little is known of their history as the owner has moved into a care home, but they possibly came from an American embassy or even an American military base.
All three porcelain plates feature a gilt American Presidential Seal having the motto E PLURIBUS UNUM within a gilt border of stars and stripes.
They were made by Royal York China in Hohenberg, Germany. The largest plate measures 35 cm diameter and the smallest 20.4 cm diameter.
In excellent condition, appearing to have had little use and never been near a dishwasher or microwave, they are estimated at £150-250 in the Charterhouse collector's auction.
The plates, and all the other lots, are available to view on www.charterhouse-auction.com where live online internet bidding is also available.
Charterhouse are now accepting further entries for their summer specialist auctions including classic cars, classic motorcycles, pictures, books and decorative arts.
Richard Bromell and the team at Charterhouse, The Long Street Salerooms, Sherborne can be contacted on 01935 812277 or via email on info@charterhouse-auction.com
Richard Bromell with a porcelain plate with the American Presidential Seal